Show Your Aloha By NOT Doing These Things When On Maui
Despite its statehood, Hawaii is home to a culture unlike anywhere on the mainland- or the world, for that matter. A bonafide melting pot, the modern culture of the islands was born from Hawaiian, Japanese, Chinese, Portuguese, Filipino, and American influence, just to name a few. Isolated from the rest of the world, Hawaii has developed quirky local customs and its own unique code of conduct. Which, for unsuspecting visitors, can come as a culture shock.
To ensure you don't unknowingly break an unspoken local rule, put yourself in danger, or merely stick out as a tourist, we've compiled 23 insider tips about what not to do on Maui. 

23 Things NOT To Do While Visiting Maui
1. Don't touch/get too close to wildlife.
Getting too close to wildlife is the #1 no-no for Hawaii visitors- this goes for monk seals, turtles, nenes, the whole lot. Approaching or touching an animal is an easy way to receive some harsh words from a protective local, or worse, earn yourself a hefty fine from the Department of Land and Natural Resources.
In addition to being illegal, touching an animal could transfer diseases from them to you, or vice versa. NOAA recommends a distance of 50 feet for viewing monk seals and 10 feet for turtles.

2. Don't forget the reef-safe sunscreen.
If you've ever visited Hawaii, you've likely experienced one of two things: a horrible, radiating, crimson sunburn or the shock of seeing someone burnt to a scarlet crisp. Put simply: sunscreen is vital in the Hawaiian Islands, even on a cloudy day. But before you douse yourself, double-check to make sure you're using reef-safe sunscreen.
Opt for mineral-based sunscreens, and avoid funky chemicals- particularly oxybenzone and octinoxate. Better yet, grab a UV shirt and a hat for extra protection.

3. Don't ignore ocean warning signs.
You'll notice orange and yellow warning signs at various beaches around the island. Some are permanent, others are placed by lifeguards to display the current advisories. These signs warn of dangers like strong currents, high surf, or dangerous shore breaks. Before entering the ocean, keep an eye out for posted warnings, and be sure to take them into account. As the saying goes, "if in doubt, don't go out."

4. Don't leave your shoes on when entering someone else's house.
This custom was brought to Hawaii by Japanese plantation workers in the 1800s, and now the practice is second nature to Hawaii residents. It's a way of showing respect for a person's home and ensuring you don't track any dirt or germs into the house.

5. Don't call your slippers "flip flops."
Building on the talk of shoe-related customs, everyone refers to their "flip flops" as slippers in Hawaii. Calling them flip-flops is a surefire way to stick out like a sore thumb.

6. Don't over plan.
Many visitors make the mistake of scheduling their vacation down to the minute. Admittedly, there's a ton to see, but there's no reason to wear yourself out on what should be a relaxing getaway. Instead, take a day off to spend by the beach or the pool or explore a nearby town.

7. Don't stand on the reef.
Corals, believe it or not, are living organisms, and stepping on them can severely damage or even kill them.

8. Don't freak out about rain, but don't ignore severe weather warnings either.
This is tricky to explain because Maui is home to an abundance of microclimates. If you're staying somewhere like Kaʻanapali or Kihei and the forecast calls for rain during your stay, don't sweat it. You might see a rainy day or some passing showers, but it rarely rains heavily in the resort areas for more than a day or two.
However, in East Maui, it rains most days, and some downpours can send flash floods coursing down the mountain. If there is a flash flood warning in your area or a downpour starts while you're swimming at a waterfall- don't ignore it. Leave immediately- chances are good, you can find a sunny beach to spend the rest of your day at instead.

9. Don't trespass, even if your guidebook tells you to.
Unfortunately, some guidebooks and apps out there don't give the best advice, resulting in visitors getting slapped with trespassing fines, getting injured on private property, and some angry property owners. People generally don't like it when strangers go traipsing through their backyards, so it's best to abandon whatever it was you were hoping to see and move on to the next.

10. Don't leave valuables in your car.
Maui is generally safe, but you can expect accounts of petty crime as with any tourist destination. Some visitors make the mistake of leaving valuables like cameras and purses visible in their car, only to come back from shopping or hiking to find their windows smashed. As a general rule of thumb, take your valuables with you, and leave nothing visible in your vehicle.

11. Don't take lava rocks home as a souvenir.
There are numerous reports of visitors taking lava rocks home as souvenirs only to be struck by immediate bad luck. Call it a superstition, but Haleakala National Park received 1,275 packages of returned rocks in 2017 alone. The packages were often accompanied by apology letters to Pele – the Hawaiian goddess of volcanos – or accounts of incredible misfortune. In addition to being bad luck, taking rocks or sand from Hawaii is also illegal.

12. Don't spend all your time in the resort towns.
From the jade pastureland of Upcountry to the colorful, lively streets in Paia Town, exploring beyond your resort is essential. You might just discover a side to the island you never thought existed.

13. Don't expect to see every stop on the Road to Hana in one day.
Peppered with countless viewpoints, waterfalls, hiking trails, and roadside fruit stands, there is simply more to see on the road to Hana than hours in the day. Over planning will just leave you worn out and won't allow you the time to fully appreciate each site. Instead, plan a few key stops and be flexible in your itinerary. Also, don't forget to brush up on Hana Highway etiquette before your journey, like pulling over if cars start piling up behind you and parking only in designated areas.

14. Don't wander off-trail.
Some of Maui's most popular hiking trails are located in ecologically sensitive areas. Staying on the path helps preserve rare plant and animal life in the area. Take Haleakala National Park, for example. Haleakala is the only place on earth where a specific variety of silversword can be found.
With spherical, silvery bases and blooming stalks that can grow up to six feet high, these alien-like plants resemble something out of a Dr. Seuss book. This silversword species is only found on the high elevation slopes of Haleakala and depends on deliberate management for survival. Here, trodding off-trail might mean crushing silversword seedlings or other rare plant and animal species. Their survival literally depends on park visitors staying on the trail.

15. Don't call Hawaii residents "Hawaiians."
Sure, someone from California might be a Californian, but the same isn't true for Hawaii. A Hawaiian is someone of the Hawaiian race- also called Kanaka Maoli. Someone born in Hawaii with no Hawaiian blood can be called kamaʻaina or kanaka Hawaii. A person who has moved to Hawaii is either kamaʻaina or a Hawaii resident.

16. Don't overpack.
Veteran visitors can attest, you will likely end up wearing only half the things you packed. A few bathing suits, a couple of changes of clothes, maybe some more admirable dinner attire should be all you need. Of course, if you plan on visiting Haleakala's 10,023 ft summit, be sure to bring along some warm clothes.

17. Don't expect to find the same cultural values as on the mainland.
Respect for the land, culture, and community is paramount in the islands. In Hawaii, some of the most respected community members are admired not for their wealth or status but for what they give back and how they treat others. The embodiment of the Aloha spirit is the most honored trait a person could have in Hawaii.

18. Don't be afraid to try modern and traditional local foods.
As we mentioned above, Hawaii is home to a blend of cultures, and there is no more significant evidence of this melting pot than in the island's cuisines. From poi to lau lau, spam musubi to loco moco, there is a multitude of original dishes to sample in the islands.

19. Don't ask for soy sauce- call it "shoyu" instead.
Also on the topic of Hawaiian foods- most locals refer to soy sauce as "shoyu." Shoyu is simply the Japanese word for soy sauce, and the term is used in place of soy sauce on most local menus. (Think shoyu chicken- soy sauce chicken sounds weird, right?!)

20. Don't swim, SUP, snorkel, or kayak offshore on a windy day.
The winds on the Valley Isle are unforgiving, and all too often, visitors are rescued after being swept out to sea on windy days. It's best to leave the ocean activities to the calm mornings- be aware that the wind usually starts picking up between 10-11 am.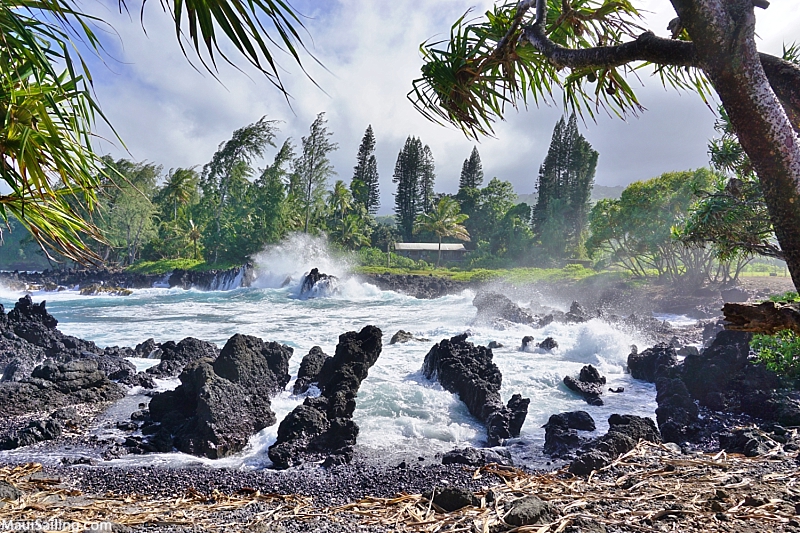 21. Don't swim in murky water.
Murky water on Maui means something is amiss. Regardless of the reason, brown or cloudy water is usually high in bacteria that can make you sick or give you a nasty infection. Sharks are also known to hunt in murky water to sneak up on unsuspecting prey.

22. Don't smoke on Maui beaches.
Not only are cigarette butts the single biggest source of ocean pollution on earth, but smoking is actually illegal on all beaches on Maui.

23. Don't forget to learn about Hawaiian culture and history.
There is so much more to Hawaii's history and culture than what is typically offered at a luau, and taking a deep dive into the subjects is nothing short of fascinating. A luau also won't tell you that, come the late 1800s, the Hawaiian Kingdom was one of the most technologically advanced countries in the world, thanks to the efforts of King Kalakaua. Taking cultural tours, visiting museums, or reading up on Hawaii will undoubtedly provide astonishing insight into the islands' history.